This time of year, we see parents and kids planning for the new school year, doing back to school shopping, getting school supplies, and planning schedules.
This year however there is a new element that parents and kids need to plan for because of COVID-19. Most school districts are planning a combination of in-school and home-school learning, while other districts are going forward with in-school learning only.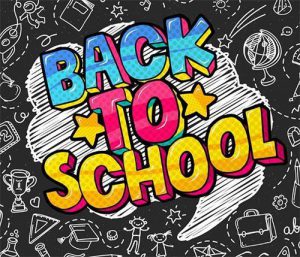 Back-to-school anxiety is normal and understandable for kids. Many kids may feel anxious about going back to school after a long summer break. COVID-19 is contributing to increased anxiety and stress levels for this new school year. In fact, many kids and teens are experiencing feelings of fear, anxiety, stress, and uncertainty as they struggle to come to terms with in the pandemic. It's not uncommon for people—including young people—to struggle with psychosocial issues during outbreaks of infectious diseases.
As of now, there is a lack of information and scientific consensus about the impact that school closures and re-openings will have on community transmission of COVID-19. There is considerable concern about the indirect effect of school closures on students and parents.  Nationally, there is no consensus on how schools should run this year.
Most models of school re-opening involve reductions of class size, increasing physical distance between students, and keeping students in defined groups with limited interaction between groups to reduce the potential for wide-scale transmission within schools.
Most districts that have re-opened schools have instituted some degree of in-school and home-school learning. For some schools that are doing in-school learning, they have staggered the start, stop, and break times within the school. Some districts are using alternate shifts (morning, afternoon) or alternate days, while a smaller number of countries have maintained relatively normal school schedules.
Some districts have re-opened schools only for younger or older students to accommodate the increase in resources (classroom space, teachers, etc.) required for smaller class sizes. And some districts have re-opened only for younger students.
As we start to observe and detail the health and socioeconomic costs of the COVID-19 pandemic, some profound consequences are beginning to emerge. Social isolation and the unknowns are taking a toll on children.  The 'new normal' is harder for some to adjust to, especially not know how long this will last or if it will be the way of life from here on.  For kids this is particularly hard because they need consistency and routines.
And while children have not suffered from the direct effects of COVID-19 infection like older adults have, there is mounting evidence that their health and welfare are being adversely affected.
The debate to reopen schools or not is playing out with no clear answers and our kids are noticing.  The stress of going back to school, performing at the required level, worrying about getting sick themselves or their family, and absorbing the stress from their parents are all factors our kids are facing.
Signs of Anxiety
When kids are anxious, they may not know how to put their feelings into words so it's important that parents know how to recognize the signs of anxiety. Here are some common indicators that a child might be anxious.
Displays changes in eating and sleeping habits
Has bouts of unexplained crying
Complains of stomachaches
Struggles to concentrate
Appears more clingy than normal
Gets upset or angry more quickly
Expresses negative thoughts or worries
Appears restless and fidgety
Here are some tips to establish routines and help ease your kids' stress:
Talk about it. Ask your child what he or she is worried about if they show concern, and talk about the fun and exciting things that will be happening throughout the school year.
Stay positive! If you show enthusiasm for what the new school year brings, your kids are sure to pick up on it, and the nervous energy will turn into excitement.
Get back on schedule. Before the school year begins, start establishing the "school year" bedtimes, and wake children up at the time they will be getting up for school. Also, eat meals on a more regular schedule before school starts.
Don't over-schedule your child or family. Also, include your child in decisions regarding what or how many activities they are involved in. Ask him or her how much they can handle in addition to schoolwork.
Set expectations. Go through expectations ahead of time about getting dressed, eating breakfast, and appropriate grooming so that everyone gets out the door on time.
Stay involved with your child's school and have regular communication with the teacher – even if it's over email. Stay on top of how your child is doing academically, socially, and behaviorally.
Get organized! Establish a family calendar where all after-school events and important assignment due dates are easy to spot. Prepare school bags and clothes, arrange books and school supplies on shelves or in boxes or drawers, organize all paperwork by priority, and make a single to-do list of all the tasks you need to complete each day.
Plan the homework load. Make a plan for where and when homework will be done. Is it always done at the kitchen table right after school, or is there a desk your child uses and homework time will be after dinner? Stick to a schedule so it's always part of the evening routine.
By taking some basic precautions, this school year can be safe and productive.
For more information from the Centers for Disease Control and Prevention (CDC), click here http://bit.ly/CDC_School_guidelines