In most states, Superior and Municipal Courts, and jury trials are planning to slowly begin again over the next couple of months. 
In New Jersey, Superior and Municipal Courts resumed some in-person court services on June 22. A small number of judges and court staff will be working on-site each day. The rest will continue to work remotely to ensure safe distancing can be maintained. And new jury trials and in-person grand jury selection began June 28.
States that are still struggling with COVID-19 have delayed their plans to reopen courts later in the summer. In Texas, State courts have decided to hold off on jury trials until after August 1.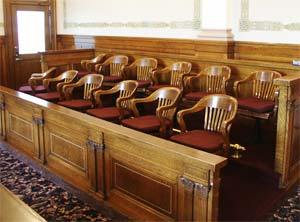 In Massachusetts, courthouses will start to reopen in early July, but jury trials in the state will not resume for at least a few more months. Jury trials for both criminal and civil cases are postponed to at least September 8. Grand juries are also not allowed to be empaneled before that date. Jury trials for both criminal and civil cases are postponed to at least September 8. Grand juries are also not allowed to be empaneled before that date.
As most Americans who work from home know, technology has allowed them to do their job. Our legal system is taking advantage of the same technology.
On June 26th and 27th, the Online Courtroom Project conducted a two-day demonstration trial entirely online to understand the challenges and opportunities of applying technology solutions in the current justice and court system.
With some courts reopening and a surge in new coronavirus cases across the country, public reluctance to show up for jury service is understandable, so different legal groups are trying to find workable solutions.
"We know we are facing unchartered territory and complicated issues, but there are a lot of available resources and practices that point the way to providing solutions to the current justice bottleneck, and even improving practices in the future. As an interdisciplinary group, we plan to bring thoughtful but expedited wisdom to researching and recommending best practices for online hearings and trials." Richard Gabriel, President, Decision Analysis, Inc., and Founder of Online Courtroom Project.
Attorneys are facing issues about getting their clients a fair trial.
The other major concern is the backlog of untried cases in the criminal justice system, which of course has ballooned during the lockdown. In Connecticut, civil jury trials are backlogged by at least six months. And that delay could prompt attorneys to opt for bench trials, according to James Abrams, the chief administrative judge for civil matters in the Superior Court system.
But Abrams is optimistic about getting back on track, especially if jury trials begin in November.
"We will be able to right the ship within six months," he said. "There would be a six-month backlog. That is a situation we will be able to manage."
Attorneys have another point of view. Jamie Sullivan, at Howard Kohn Sprague & FitzGerald, said he favors bench trials in the short-term because "it will move business and will allow cases to be adjudicated."
But Sullivan said, "Few people realize how important this system of having a jury is to the American democracy. It not only allows the most powerless to render judgment on the most powerful, but it allows citizens from different backgrounds to engage in principled debate and to lose that would be incredibly damaging for democracy."
In New York City, the virus is putting incredible stress on its judicial system, creating long delays in criminal proceedings and raising growing concerns about the rights of defendants.
Since February, the backlog of pending cases in the city's criminal courts has risen by nearly a third — to 39,200. Hundreds of jury trials in the city have been put on hold indefinitely. Arraignments, pleas, and evidentiary hearings are being held by video, with little public scrutiny. Prosecutions have dropped off, too, as the authorities have tried to reduce the jail population.
In mid-June, the state courts in New York City took a first small step toward physically reopening: Judges started returning to their chambers, though they are still holding court virtually.
AV Capture – Judicial Solution is used to record the Audio (and Video if desired) of courtroom hearings. The Court Calendar or Docket is synchronized to the recording, with an option to publish public hearings online. If published, the docket is then indexed and becomes immediately searchable, allowing Court staff to save time by directing defendants or other interested parties to the website to view or order their recordings. If not published, court recordings can be easily located, and burned to DVD.
AV Capture is here to ensure the gears of government continue to work and the public is informed.