As the Coronavirus pandemic continues, almost everyone has adapted to a new, virtual reality. Businesses, doctors, restaurants, and even the U.S. Supreme Court have made adjustments so they can continue functioning while people shelter at home.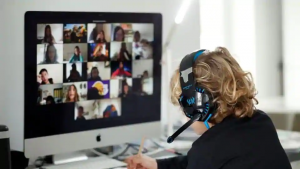 And now our Federal Government is engaging in video conferencing. Last week members of the bipartisan Problem Solvers Caucus met for the first-ever "Virtual Congress." The event was streamed on Facebook Live with members speaking against a backdrop of the House chamber. The hourlong session was meant to replicate how the House debates legislation.
This week, for the first time in American history, a senate hearing will be conducted via videoconferencing. The Health, Education, Labor and Pensions Committee hosted the virtual hearing which will feature a combination of in-person and video conferencing participation.
"After consulting with Dr. Fauci, and in an abundance of caution for our witnesses, senators, and the staff, all four Administration witnesses will appear by videoconference due to these unusual circumstances," said Senator Lamar Alexander, chair of the committee.
Director of the National Institute of Allergy and Infectious Diseases Dr. Fauci, Food and Drug Administration Commissioner Stephen Hahn and Assistant Secretary for Health Brett Giroir will also appear at the virtual hearing.
For Federal employees, one of the biggest issues they face is security. With the shift to telework, using personal computers versus agency-assigned computers has been a sticking point for several reasons. Agencies are now writing new policies for work-at-home during the COVID-19 pandemic that allows employees to use their own devices and "bring-your-own-device" (BYOD), which could have effects even after employees are able to return to the office.
"BYOD is now the reality, and it will continue to be," said Greg Touhill, former federal CISO, and president of mobile security firm AppGate Federal Group, "because I don't think we're going back."
Government agencies that have focused on the identity-based model of security have encountered fewer technical hurdles to access as the shift to telework enters the medium and long term.
Live Streaming Virtual meetings have some drawbacks but for the most part are an efficient use of time and resources.
According to the U.S. Office of Personnel Management (OPM), the statistics support the work from home model. The benefits of Live Streaming video communication are increased productivity, better connected distributed teams, reduced travel expenses, and a less stressful way to meet and work.
An OPM survey done before the health crisis found that video telecommuting work from home has been beneficial:
82% of video users are less likely to multitask (as compared to just audio)
78% of users said they use video communication at work for team meetings or stand-up meetings because it keeps them connected and engaged
63% of video users miss seeing colleagues' faces when they can't join calls
The issue of security has not been addressed by many providers. However, now is the time for video conferencing providers to implement enterprise-grade, mission-critical security applications to ensure company and employee data is protected.
At AV Capture All, security has been essential to our platform because we work with government agencies that demand it. Our Live-Streaming solutions are secure, easy to use, and lets local governments stay engaged with the public during this unprecedented time.
AV Capture– Legislative Solution is used to record Audio and Video while integrating Agendas, Minutes, and Related Documents. The document content is synchronized with the Audio/Video stream, then indexed and immediately searchable when published online. Once published, staff and citizens can view any part of the Audio/Video-on-demand, while following along with the synchronized Agenda, Minutes and Related Documents. Live Streaming is also integrated into the platform to allow staff and citizens who cannot attend the meeting in-person to view online from home.
AV Capture All is here to ensure the gears of government continue to work and the public is informed.