This Independence Day is unlike any other our country has celebrated in its 244 year history, but our joy and deep love of country are the same.
Independence Day or July 4th—has been a federal holiday in the United States since 1941, but the tradition of Independence Day celebrations goes back to the 18th century and the American Revolution.
From the day in 1776 that the 13 colonies adopted the Declaration of Independence, a historic document drafted by Thomas Jefferson, July 4th has been celebrated as the birth of American independence, with festivities ranging from fireworks, parades, and concerts to more casual family gatherings and barbecues.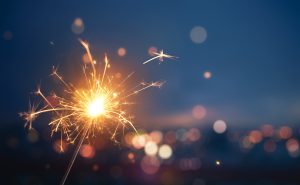 John Adams wrote to his wife Abigail that Independence Day "will be celebrated, by succeeding Generations, as the great anniversary Festival" and that the celebration should include "Pomp and Parade…Games, Sports, Guns, Bells, Bonfires, and Illuminations from one End of this Continent to the other."
This 4th of July, however, may not resemble the celebrations in years past. As we face a health crisis that is not diminishing, and in fact in some states is getting worse, many Americans are weighing concerns for their health over going to large celebrations.
As new coronavirus cases soar, many state and city celebration plans are being canceled, but there are still ways to celebrate the Fourth of July while social distancing. The Centers for Disease Control (CDC) has issued guidelines for gatherings, click here to learn more.  Here are addition guidelines from the CDC
Each state is issuing its own guidelines so be sure to check your state's website. But most states are asking citizens to stay home and skip the party. If you plan to visit a National park, the National Park Service said it "strongly" encourages social distancing and the use of face coverings, but added that officials would "not take actions against individuals who do not wear cloth face coverings or adhere to the guidance."
Whatever your plans are, AV Capture All wishes you and your family a happy and safe Independence Day.